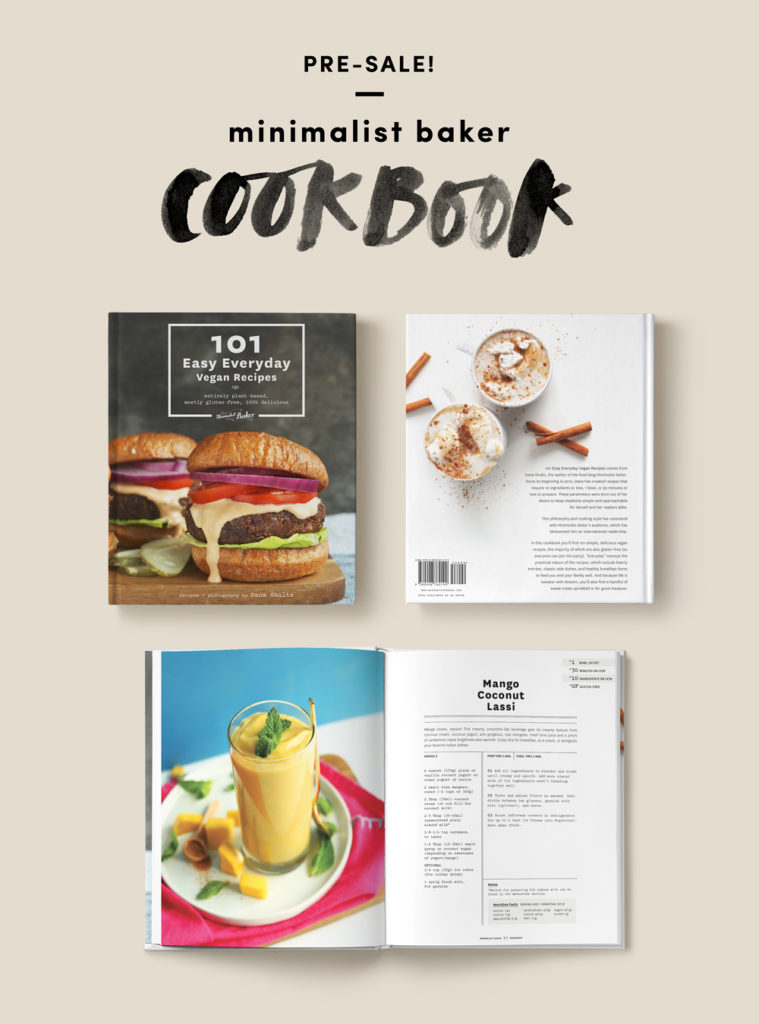 I'm so excited to share a project I've been working on for a looonggg time: A COOKBOOK!
But not just any cookbook—I'm talking about Everyday Cooking from the babes behind Minimalist Baker ( that's you two, Dana + John ). Late last year, Dana + John asked me if I'd be interested in designing their print cookbook, and I legit didn't have to think about my answer before these words came spewing out of my mouth.
The work Dana + John put into this cookbook is visibly apparent. It's 300+ pages of simple, plant-based recipes, and helpful tips to feed you and your family well. The photography is gorgeous, the plant-based recipes are killer, and most of all, this book is approachable to EVERYONE, vegan or not. My mouth can personally vouch for the Thai Quinoa Meatballs + Peanut Sauce, Roasted Red Pepper + Harissa Hummus and The Trashy Vegan Sandwich.
And, I oh-so-hope you love the design. The overall vibe is clean, graphic + modern, with some fun touches of quirkiness throughout the book. Plus, we worked hard on layout and labeling systems for each recipe, so it's easy to navigate each section, get the nutrition facts and find gluten-free options ( 30 minutes or less, 10 ingredients or less + 1-bowl labels, also included ).
The pre-sale is on, so pre-order now to reserve your copy! We're working on finishing last-minute things on our end to ensure the book that's delivered to your door come February is equal parts useful, beautiful + mothereffing delicious.