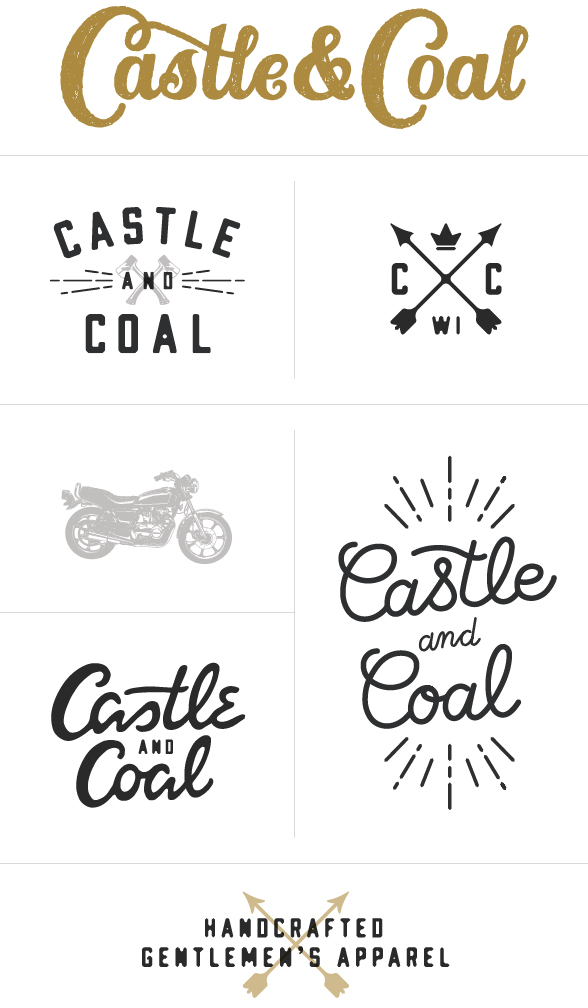 I'm a wee bit behind on showing new design work, but that's about to change right now folks. Earlier this year, the Madison-based team over at Castle and Coal were in need of branding for their new men's clothing store. C + C sells a curated collection of vintage-inspired clothing that's both modern and masculine. They've got a "slow fashion" ethos—focusing on well-made, high-quality clothes that last. As you can imagine, I was so excited to take this project on.
Local business, thoughtful men's fashion, vintage-y style, SOLD.
Above are a few first round logo drafts initially sent over to the C + C team. Each draft utilizes a neutral color palette of charcoal gray, light gray + mustard-y gold along with some vintage wood cut illustrations. I tried to keep an industrial yet classic aesthetic with a nice variety of elements that can be mix and matched together. Branding new businesses, I think it's important to have a strong yet flexible identity system that can be easily deployed for whatever is needed.
The final C + C logo is a mixture of the above designs ( hint, hint: we settled on a hand-lettered version ). I can't wait to reveal the full project very soon—business cards, hang tags and store signage included. All in due time my friends, all in due time.