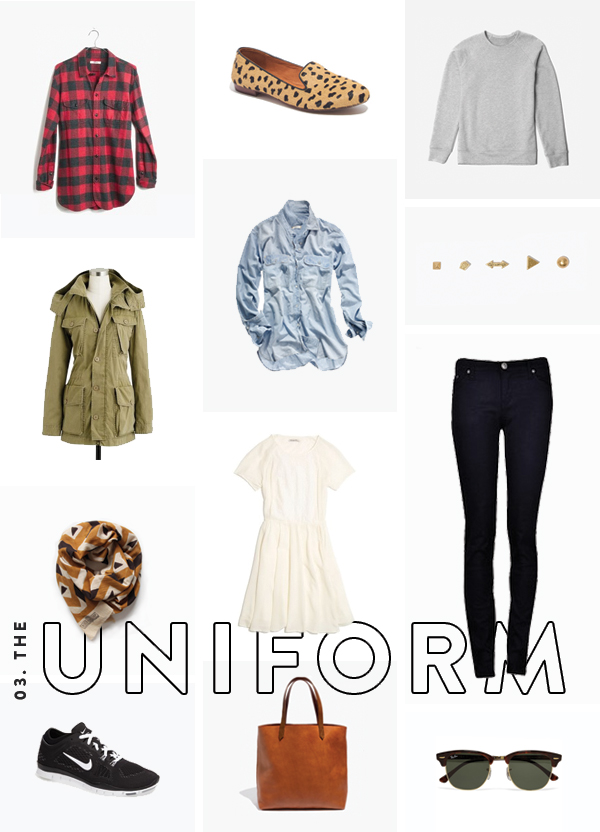 It's funny. When I first posted about culling my closet to create a more minimal, thoughtful + "me" wardrobe, I thought I had a good grip on the whole closet minimalism thing.
Get rid of shit I don't wear. Find the gaps. Buy clothes to fill those gaps.
And I wasn't completely wrong—each of those steps is necessary to form a functional wardrobe. But then I got off track, bought clothes I never wore and had to re-analyze my strategy. To start, I wrote down what didn't work and tried the capsule wardrobe ( not for me ), but grew frustrated that I still couldn't get something as dumb as my closet together. My brain needed a break.
Why was I doing this whole thing in the first place?
To buy less, but higher-in-quality things. To be more conscious about who I buy from. To make it easier to get dressed ( aka no more stressful "What do I wear?" mornings ). To give my brain back space to make more important decisions. To love what I'm wearing every day.
That's why I'm on a shopping break until September.
And that's where the uniform comes in.
I have more than enough clothes to wear. And I've decided to live with those clothes for six months as an experiment to really track what I wear, what I need and how I feel when I take shopping out of the realm of possibility. This article was a huge catalyst in that. Even though I don't work a traditional office job, I, too, want one less thing to worry about in my day. And if I needed any more convincing, this article, this article and Steve Jobs did it.
Five out of the seven days in a week, you'll most likely find me wearing some combination of the above items. In fact, I'm wearing the sweatshirt, jeans + tennies as I type this.
Confession: I did just buy a pair of blue jeans at Madewell ( with a gift card ) because my one and only pair broke open a huge crotch hole. I probably could've still worn them, but instead I'm saving you the pain of me pulling a Britney. YOU'RE WELCOME.
plaid, loafers, sweatshirt, jacket, chambray, earrings, scarf, dress,
jeans, tennis shoes, tote, sunglasses