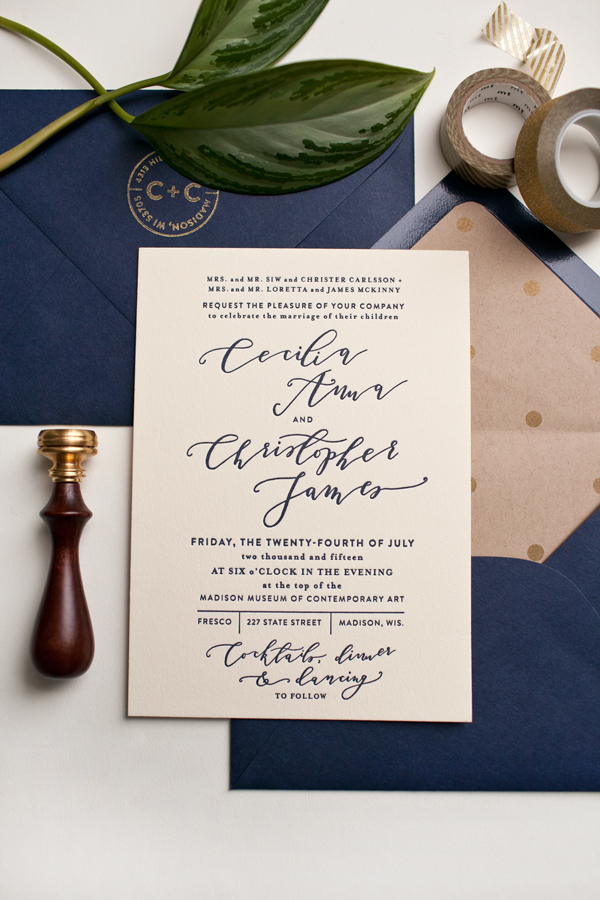 Earlier this year, I had the pleasure of working with a couple who have serious style + killer taste. They also happen to be my friends ( because style + taste are my two friendship pre-requisites ).
Before I left my job to go back to design school, I worked with Chris for several years, and since then, he's become a dear friend of mine. In fact, he has me to thank for his marriage to Cecilia, because without the necessary prodding of myself + our other co-worker, he may not have had the balls to ask her on a second date. Chris, YOU'RE WELCOME.
I absolutely loved working on their simple + modern 4-piece wedding invitation suite. Throughout the design process, I kept referring to J.Crew catalogs for inspiration because they encapsulated everything I wanted this suite to feel—classic and understated, elegant yet unique. We ended up choosing a navy blue + gold palette, and added lots of subtle accents, including edge painting the invitations gold ( see here ). The calligraphy took me many attempts to nail, but I love the way the lilting letterforms add a bit of quirkiness.
To finish, I letterpress-printed the suite on a C + P machine on super thick ecru Crane's lettra paper, then Cecilia's mom made the liners for those gorgeous navy blue envelopes. The full wedding suite should be revealed in my needs-to-be-updated portfolio soon.
Also, I photographed their wedding reception!
Here's a small snippet of the lively, laugh-filled + joyous evening. So much love for these two.