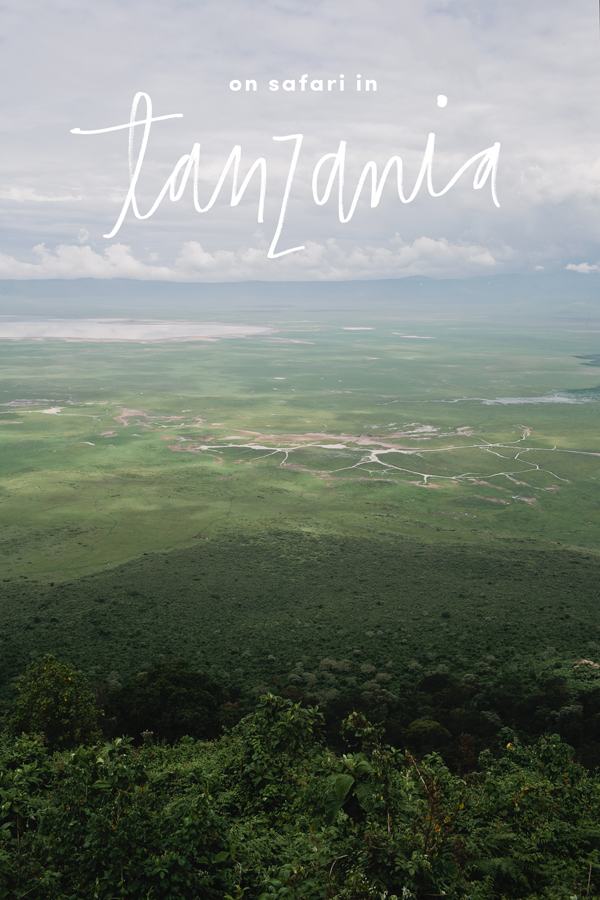 It still feels incredibly surreal that three weeks ago, we were in Tanzania.
It also feels hard to put the entire experience into words that accurately express the warmth, beauty and friendliness that radiated from the people + the land. Adjectives like amazing! inspiring! life-changing! don't do it justice, and yet, Tanzania was all those things: amazing, inspiring and life-changing. Trite, but oh so true.
Going on safari was, of course, one of the highlights. There are few feelings of exhilaration in my life that match the first time I saw a giraffe on safari. It's sleek neck peeked out of a bushy tree top in Lake Manyara National Park, and I slightly peed myself from excitement. It made me so dang happy to see animals in the habitats where they belong—roaming free and wild in mother nature, and you know… NOT in a zoo. You name an animal, and we saw it. Lions ( simba ), zebras ( punda lia ), baboons ( nyani ), hippos ( kiboko ), warthogs ( pumba ), giraffes ( twiga ), rhinos ( kifaru ), hyenas ( fisi ), elephants ( tembo ), leopards ( chui ) and many more.
We even saw a cheetah kill! It was gruesome watching the cheetah devour the baby wildebeest with its furry mouth stained red with blood, but as they say, it's the circle of life, yo.
A few other safari highlights: daily Swahili lessons from Robert + Nelson, spotting the Maasai wrapped in the traditional red + blue shuka blanket, visiting Oldupai Gorge ( where the earliest evidence of the existence of human ancestors was found ), falling asleep to lion mating calls in the not-so-distant distance, morning safari drives, the delicious green banana curry dish Nelson for dinner one night, the pack of 20 mama + baby elephants that crossed the road in front of our car on the way to the airport, and flying out of the Serengeti to witness the incredibly diverse landscapes of Tanzania thousands of feet in the air.
Nashukuru coocoo fahamu, Tanzania. ( It's nice to know you, Tanzania. )
Tanzania is one of the friendliest countries I've visited with some of the nicest + funniest people. Generally, the society is conservative, so it's important to keep that in mind as you pack for the trip, interact with locals and conduct yourself in Tanzania. R-E-S-P-E-C-T.
Planning our trip involved a lot more research + preparation than any other place I've traveled to. Between international flights, safari operators, vaccines, money, transport, logistics, etc., it can feel like a lot. Below is a quick overview of the trip, but if you're seriously thinking about going to Tanzania, please email me. I'd be happy to give more specific advice.
---
WHERE TO GO
The better question is: when are you going? Northern Tanzania is home to the Great Wildebeest Migration, which sees more than two million animals migrate between Southern Kenya + Tanzania every year. The best place to safari + see animals changes throughout the seasons.
For us, going in mid-to-late January meant we spent one day in Lake Manyara National Park, one day at the awe-inspiring Ngorongoro Crater, two days in Ndutu ( an area between Ngorongoro + Serengeti ) and two days in Serengeti National Park. We saw the most animals in Ndutu, as the wildebeest were calving ( BABIES! ), and animals were everywhere. Ngorongoro is also animal-plenty—it was here we saw the incredible endangered black rhino.
---
SAFARI COMPANIES
There are many safari companies, and the right one depends on how luxurious you want your trip to be. We used Basecamp Tanzania ( hi Achmed! ), which was perfect for us budget-minded safari folk. We tent camped four of the six nights, and stayed at this tented camp the other two nights. We loved our guide, Robert, and cook, Nelson, who schooled us in Tanzanian rap music + politics, and put up with my endless requests for, "How do you say that in Swahili?"
Access 2 Tanzania was our #2 safari company choice. They were highly responsive + helpful, but more expensive than Basecamp. If you're looking for a company on the luxury end, we heard great things about Leopard Tours.
---
GETTING TO + FROM
On arrival, most people fly into Mount Kilimanjaro Airport, which is a 45-minute drive from Arusha, Tanzania's 4th largest city + the main jumping off point to safari. We stayed in Arusha for two days to acclimate, have a pre-safari meeting with Basecamp and visit the School of St. Jude. On our third day, Robert + Nelson picked us up at our lodge at 7am, and we headed off on a two-hour drive to our first park.
When our safari was over, we flew straight out of the Serengeti to the island of Zanzibar for the next part of our trip. Depending on the itinerary, many safari vehicles make the long trek back to Arusha for travelers heading home or on a bus to their next destination in Tanzania.