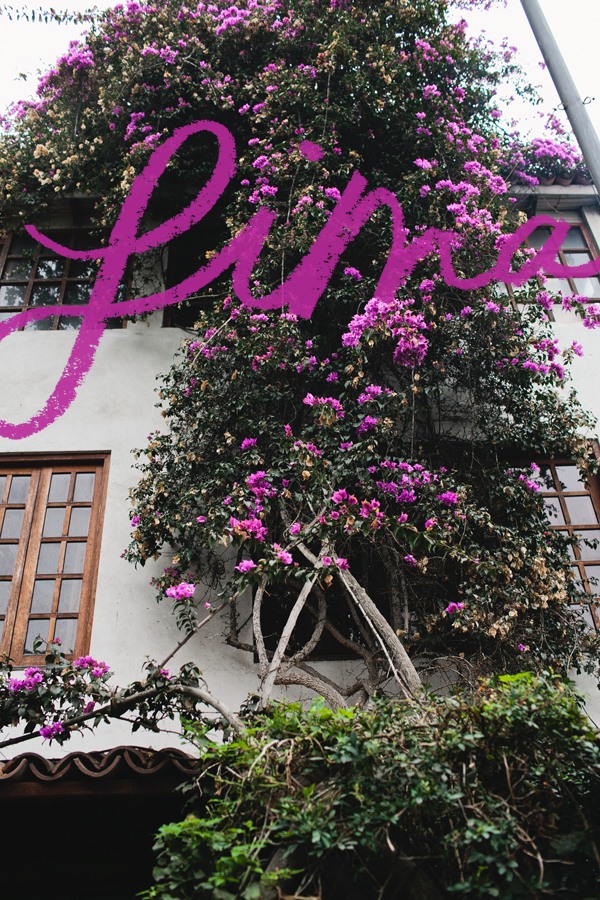 Upon landing in a brand new city, I always get butterflies.
The same question sits heavy in the pit of my stomach every time I'm impatiently waiting for the plane to taxi to the gate. Still buckled, I spend those minutes trying to imagine what this foreign land will look like, sound like, smell like, taste like. And most importantly, I wonder whether or not, in those crucial first hours of arriving, I will like this not-so-foreign-anymore place.
My mom and I landed in Lima, Peru at 1am in the morning. Our bleary-eyed selves slowly made their way through customs and baggage claim, then finally out into the warm Lima air where our taxi driver, Marcos, was waiting for us. As he wove us out of the gritty Callao neighborhood and onto the Circuito de Playa, the highway that runs along the ocean, I inhaled the thick, salty air and gazed at the calm, lapping waves. I think I'll like this place just fine, I thought.
A circus of honking between cars at nearly 2am quickly broke my trance. We nearly side-swiped the taxi next to us before veering sharply into the left lane for a quick u-turn.
And that my friends, is the perfect way to describe Lima.
It's gorgeous and quaint one minute, then loud and in your face the next. It's rich, and very, very poor. There's empty streets, and bumper-to-bumper traffic along most others. Organized chaos is how I would describe driving here. There's color and life and grit and energy and Uber taxis and food. OH MY GOD. The food. Potatoes and corn. Ceviche and quinoa. Causas (mashed potato terrines) and anticuchos (beef heart). The best damn limonata. There's Japanese fusion, Chinese fusion, Italian fusion, and Amazonian cuisine. There's much eating to be done with three of the world's best restaurants (#4, #13 and #30).
The garua fog blankets the city and its sprawling cliffs in dense clouds and gray during the winter, and somehow, everything seems heightened—more tangible—because of it. Lima, I didn't know quite what to expect of you, but I'm already dreaming about my return.
More peeks of our trip on Instagram: @hollisanne_
---
WHERE TO STAY
We stayed in Barranco in the southern part of Lima and cannot recommend the neighborhood enough. The staff at 3B Barranco B+B were so nice and accommodating (hola Elizabeth!), and I can personally vouch that all 506 five-star reviews on TripAdvisor are well-deserved.
---
WHAT TO DO
The best thing we did was take a food tour with Lima Gourmet Company. We galavanted around Lima for the day drinking local coffee and lucuma smoothies, tasting Andean fruits at the market, making our own ceviche + pisco sours, and finishing the day with lunch at Huaca Pucllana, which is situated at the base of an ancient adobe and clay pyramid. Highly, HIGHLY recommend.
Barranco was my favorite neighborhood. The charming colonial architecture mixed with a hipster, artsy vibe made it the perfect place for us to stay. You can easily spend a day walking and eating your way through this oceanside district. If you have time, visit Museo Mario Testino (MATE) for a few bucks. There's a nice collection of his A-list celebrity photography, and an exhibition featuring a local artist in the back. From here, take the malecón ocean walk from Barranco to the Miraflores neighborhood for a long afternoon stroll.
Located on the flower-laden grounds of an old mansion, Museo Larco offers a collection of pre-Colombian ceramics. The best part is the naughty erotica gallery, which despite your best efforts, will make you giggle like you're back in 5th grade human growth and development class.
Spending the day in Central Lima exploring the Centro Histórico is a must. Take the Metropolitano to Central Station, where it's a quick few minutes to the El Jirón de la Unión pedestrian walkway. This leads right up to Plaza Mayor, where you'll find the Catedral de Lima and Government Palace. There's a changing of the guard every day at noon, which is worth the watch.
For shopping, Puna and Plantique in Barranco are a must. The former is a design-minded store with amazing local art and fair-trade artisan goods. The latter is next door, and a lovely plant shop. Also in Barranco,  Dedalo is worth a visit. There's a number of artisan markets in the Miraflores area, which are pretty touristy but still work a walk-through.
---
WHERE TO EAT
There's no shortage of good eating to be done in Lima. If you're in the Barranco neighborhood, start your morning at Tostaduria Bisetti, where Peru's best coffee is made (they have the award to show for it). For lunch, head over to Burrito Bar for the most delicious mint limeade and tacos, or if you're vegetarian, La Bodega Verde. It's a healthy café with a courtyard seating area, and lucuma smoothies. For dinner, Isolina is a must. It serves criollo food, which is typical everyday Peruvian food. I highly recommend the lomo saltado (sautéed beef), ceviche and pisco sours.
If you're in Miraflores, El Pan de La Chola has excellent whole grain bread platters (the avocado was the best), while La Mar was great for ceviche and causas (potato terrines). Amaz is perfect for a fancy evening out. Their plantain ceviche was our favorite of the trip.
For the best of the best, head to the neighborhood of San Isidro for Astrid y Gastón, which is run by Peru's most famous chef, Gastón Acurio. My mom and I went for her birthday, and indulged in the 10-course tasting menu. Ceviche, tiradito, guinea pig (!!!), and much more.