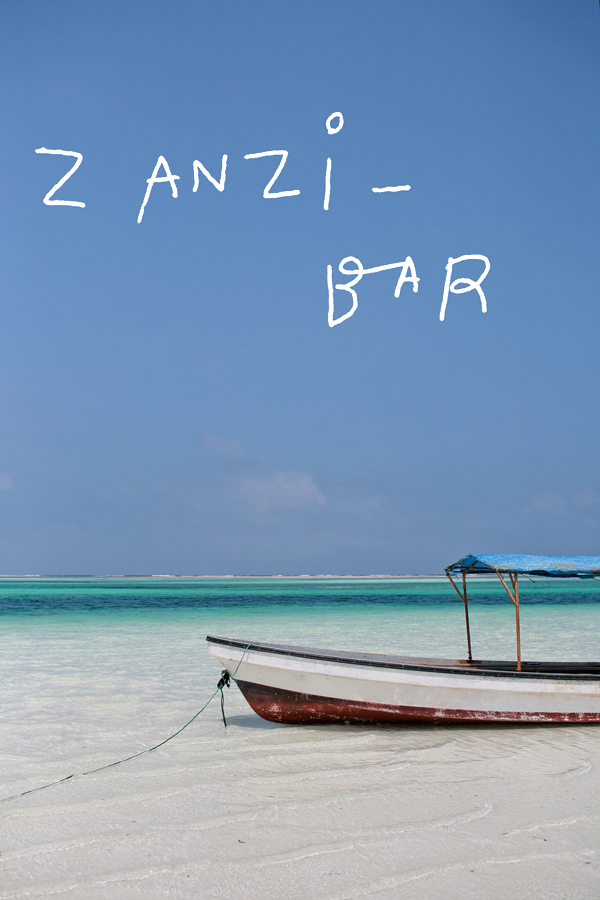 Zanzibar, oh Zanzibar. You crazy beast, you.
It's hard to write about this island archipelago without acknowledging my bias. On our first full day in Michamvi ( the eastern side of the island ), Chris sliced open his wrist at 8:00am with the help of a rusty metal ceiling fan. For the record, it was a short ceiling for a tall 6'4 man. What followed was a half-day trip to the local hospital for stitches ( an interesting, most humbling experience ), and an additional day of follow-up visits for an emergency tetanus shot. Needless to say, the start of the second leg of our trip was not as relaxing as we had hoped.
BUT… as I mentioned in my safari post… Tanzanians are the warmest, friendliest bunch. Ahmed, Muini, Christian, Claudia, our two taxi drivers + five doctors took such good care of my injured mizungu ( white man ), and we are so thankful for them all.
To celebrate his renewed health, we did nothing. Literally.
While in Michamvi, our days went something like this: sleep in, breakfast ( fresh fruit plate + coffee every day ), mid-morning walk on the beach, mid-morning beer, lunch ( fresh seafood, curry or pizza ), afternoon walk, afternoon nap, afternoon beer, shower, nightly walk with Ahmed, dinner, an hour or two of reading, bed. It was exactly what we both needed—pure relaxation.
After four days in Michamvi, we set sail across the Indian Ocean for Chumbe Island. This private nature reserve + coral park was without a doubt, one of the highlights of the trip. We snorkeled and ate exceedingly well, relaxed in our crazy eco-treehouse bungalow, hunted for giant coconut crabs + witnessed some of the most pristine turquoise water I've ever seen.
Our last few days were spent in Stone Town in the capital of Zanzibar, which was not our favorite. The street touts were out in full force, which made walking around the narrow streets + alleyways impossible without being stopped every 10 seconds to book a tour. I understand people gotta hustle ( $$$ ), but it got old fast. Also, it was so damn j'oto ( hot ). Luckily, there were pretty doors, excellent coffee + a rooftop dinner to the sounds of call to prayer that I'll never forget.
Tanzania, you are a gem. We hope to see you again soon. Tooka pamoja.
I cannot recommend traveling to Tanzania enough, not only for the landscapes but the people. The ebola epidemic hit the country's tourism hard ( even though it was on the complete opposite side of the continent ), so if you're interested in visiting, please go. You won't be disappointed by the diverse landscapes, exceedingly friendly hospitality + overall loveliness of this country. Take it away, Professor Jay.
More peeks of our trip on Instagram: @hollisanne_
---
WHERE TO STAY
In Michamvi, we stayed at Pweza Beach, which was honestly a letdown as the rooms are not as big or nice as they appear. Our room was very basic + fairly clean, but for the cheap price, we stayed. Despite this hiccup, I would like to add the staff gets an A+ for being awesome.
There's only one place to stay on Chumbe Island, and that's in one of the seven eco-bungalows on the island. Visiting Chumbe is not cheap, but the cost does include all food, snorkeling + a few planned activities. Chris + I both wished we had stayed much longer than our one night.
In Stone Town, we holed up at Stone Town Café and Bed & Breakfast, and can't recommend it enough. The rooms are spacious, clean + charming ( with AC! ), and the staff is attentive. It's located right in the heart of Stone Town just a few hundred feet from the ocean.
---
WHAT TO DO
There is lots to do / see / shop in Stone Town. A must-visit is a trip to the Old Slave Market, which is on the site of an Anglican Church built over the old slave chambers. Zanzibar was a key port + center of the slave trade in the 19th century. It's a tough tour to take, but the importance of learning + seeing the slave chambers first hand cannot be underestimated.
I visited Mrembo Spa—a local Zanzibari spa housed in an old antique shop—for a massage. They use handcrafted oils and scrubs made from local, organically-grown ingredients like ylang ylang and sandalwood. It's women-owned and women-run, which I love.
The best way to see Stone Town is to explore aimlessly. Be prepared to repeat the word "NO" to the onslaught of street touts as you meander through the Stone Town maze. Shops, galleries + restaurants are everywhere, so you're bound to find something good. Also, keep on the lookout for the hundreds of intricately carved doors, which are scattered throughout the city.
---
WHERE TO EAT
In Michamvi, our best meals were eaten at Pweza Beach, where we stayed. Their restaurant—run by two Italians—offers delicious wood-fired pizzas along with a variety of curries + fresh seafood. The above dish in the photos is one of the most delicious things I've ever had—freshly-caught tuna with lime, ginger, passionfruit and a passionfruit mostarda. The Rock ( a bar + restaurant IN THE MIDDLE OF THE OCEAN ) is a memorable if not fairly touristy pick that's nice for a happy hour and/or dinner. We also ate a few meals at Upendo Beach, which had great drinks + an appetizer of fried potatoes that was spicy good.
In Stone Town, we loved Stone Town Café for its delicious coffee + avocado toast. Archipelago Restaurant made a basic but delicious lunch, while Zanzibar Coffee House is a lovely + charming spot for an afternoon shot of java. Our rooftop dinner at Emerson Spice Hotel was a memorable, five-course affair complete with a sundowner ( happy hour ). As we ate, we heard the call to prayer echoing from three different directions, and it was simply magical.