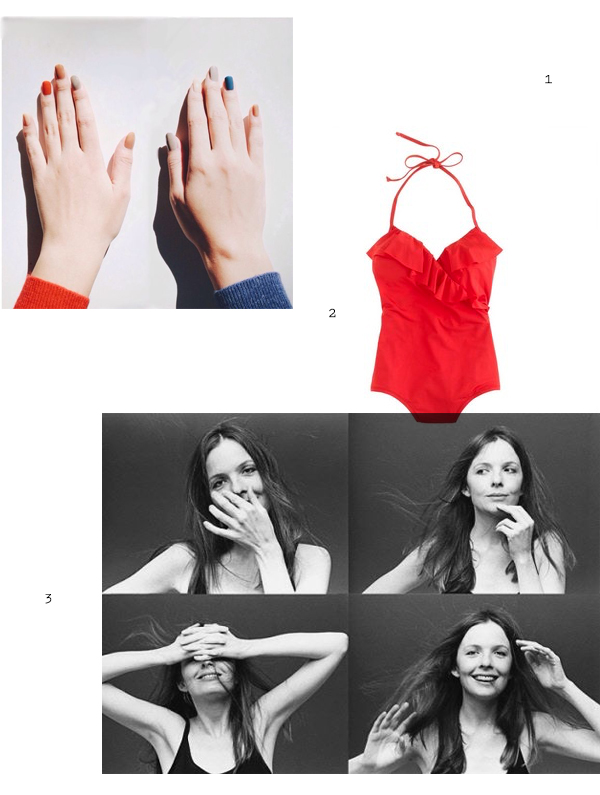 March has got me in a seriously spring-y mood.
I'm loving the brighter colors + bare ankles. Warm sunshine. Lighter layers. Cheerier moods of friends + strangers. Vintage-inspired spring color palettes (muted nautical, I dig). All these things. It's also important to mention my OCD-level obsession with cleaning out my apartment is in full force. One-eighth of my tiny studio is currently a stockpile for things to get rid of. It feels right to open up space in order to welcome new things in.
"Spring is the time of plans and projects," said Leo Tolstoy. Perhaps that's why the thawing of the earth brings with it fresh, renewed energy. I've been in a serious funk for the last month, but that cloud seems to be dissipating. I feel excited again. I'm making plans + brainstorming new projects, but also working to shift more of my focus to living in the present moment. It's something I'm practicing as part of a mindfulness meditation class I started this week.
I hope you've got plans + projects of your own up your sleeve. In the meantime, make it a lovely weekend, friends.
---

The most adorable letter boards.
Endlessly inspired by the quirky Jean Jullien.
The Power of Buying Less by Buying Better.
Have you heard of ThredUp? It's online secondhand shopping—even Oprah recommends it! I just ordered my first kit to sell a bunch of clothes.
These brussels sprouts are so, so good.
I'm waaayyy behind the times + just discovered make-up tutorials on YouTube. Christine is my fave. Her Jeanne Damas + Chloe Sevigny tutorials are perfection.
Edible cutlery. This is genius + delicious.
13 Questions to Ask Before Getting Married ( via Cup of Jo ).
The secret to spring cleaning ( via Becoming Minimalist ).
If want to save extra cash without much effort, try Digit. The app withdraws a small amount ( $0.50 to $10.00-ish ) from your account every week or so and puts it aside in savings. It's small money you don't miss, but those benjamins add up.
And most importantly, I followed Sanrio on Instagram, and my 5th grade self could not be happier. Keroppi, Pochacco, Badtz Maru + the gang are still as cool as ever.