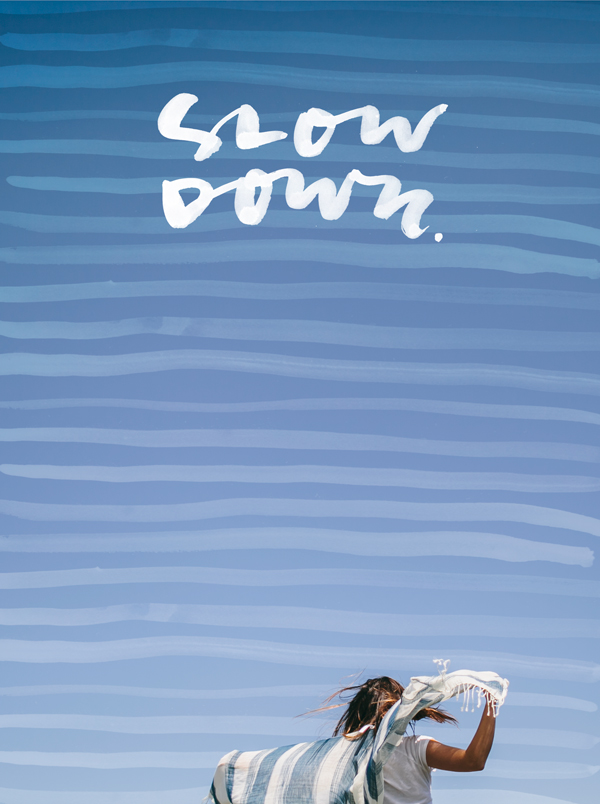 I've always felt the "where does the time go?" question is overused in conversation, and yet…
Can you believe it's almost August 1st? Where has this summer gone? And why have the mosquitos turned my ankles into ITCHY RED CANKLES?!?
I find myself saying this over and over to friends, family and random strangers who will listen to me. It's a very uncomfortable feeling for me, the quick passing of time. The only way I've been able to ease the terrible daily anxiety it gives me has been to slow down.
This, however, is not an easy task when you work for yourself. I've found if you let freelance life control you ( as opposed to you controlling it with appropriate boundary setting and organizational skills ), it swiftly becomes a neverending to-do list. That's why I just resigned from working with my biggest client. It still feels slightly insane to me that I've given up a steady, monthly paycheck, but my gut knows it was the right decision. Not only will this free up time to take on work I'm super passionate about, but it will make it easier to create time to relax. Yoga, cooking, reading, running, being—all the things I've relegated to the bottom of the priority list for the past few years.
Poorer but happier? I'll take this better balance.
Slow down with a few of my favorite recent links, and make it a lovely week, friends.
---
I've been eating this salad on repeat.
Science proves these eight things can make us happier. I'm finally going to commit to #8.
After spotting them at a boutique in Portland, these gorgeous earrings are on my wish list. And speaking of wish lists, these, this and those*.
The Myth of the Ethical Shopper. A depressing but necessary read.
An interesting article on gut bacteria + mood. As a result, I'm back on my daily probiotic.
The Low Information Diet. I'm finding this more important than ever.
This Netflix documentary is on my to-watch list this week.
The manfriend and I have decided this country is our next travel adventure. Eeep! That blog post makes me soooo excited for January 2016.
Best. GIF. Ever.
*Rachel reminded me to get these before the inevitable winter-long waitlist.
"What you seek is seeking you." Rumi