AMSTERDAM, THE NETHERLANDS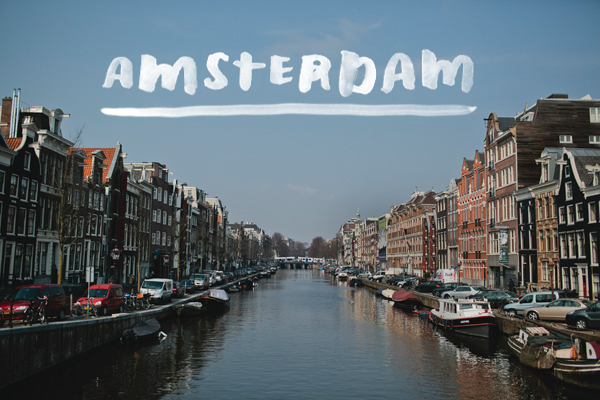 With just two days, I feel like I only began to scratch the surface of Amsterdam.
Unlike most big cities, this one felt uniquely distinct. I knew I was in Amsterdam, and I felt it. The whoosh of people whizzing by me on their bikes. The wafting aroma of marijuana as I walked by an unassuming coffee shop. The tall, lean houses smushed one right after another along the canal streets. The murals and hand-lettered signage found in deserted alleyways and painted across trendy shops. The quirky houseboats lining every canal. The laid-back attitude of nearly everyone I met—never in too big a rush to meet up with friends at the nearest café for a beer.
When I first exited the train station into the busy Damrak area, I thought I'd hate Amsterdam. It was busy and ungodly touristy. I felt so claustrophobic that I immediately hauled major ass away from the madness. I had no idea where I was going, but headed straight south anyways. And after about 15 minutes of walking, the crowds loosened, the streets calmed, and I looked around to really see Amsterdam for the first time—charming and intimate, boasting a whole lot of character.
I can't say it's one of my favorite cities, but you can bet I'll be back for a second visit. Oh Amsterdam, you're truly one of a kind.
My two day trips to Amsterdam were most definitely not enough to take advantage of seeing everything this European hub has to offer. I'd easily budget a week here, although three to four days is probably doable to see most of the major attractions. Like I mentioned from Maastricht, I can't vouch for places to stay but there's a few good-looking AirBnb apartments here, here and here (on a houseboat!).
*Also an important note: cafés sell coffee, coffee shops sell marijuana. You've been warned.
---
EAT
If you don't like to waste time upon arriving to a new city ( like me ), I recommend starting your day at STACH. With a few locations around the city, it's the perfect place to grab a take-away coffee + a few healthy snacks for morning fuel. For a cheap + filling lunch, eat at one of the many kebab shops for a kebab, shawarma or falafel. I ate at KEBAB HOUSE ( ahem, more than once ), and it was delicious and only 5€!
Another great lunch or dinner option is a stop at the market. The ALBERT CUYP MARKT located in the hip De Pijp neighborhood had endless options—from falafel to frites to stroopwafels and fresh produce. When dinner rolls around, HOFJE VAN WIJS does not disappoint. Run by a 200-year-old coffee + tea vendor, the café is a lovely respite near the Red Light District. The fondue + seafood pasta were both excellent, as was the extensive wine + beer list.
---
SEE
The art lover in me demands that your first stop be the VAN GOGH MUSEUM. It's a thorough retrospective of his career and personal life, which ended with his suicide in 1890, and was my favorite museum I visited. That being said, the RIJKSMUSEUM is also fantastic with a can't-miss Rembrandt exhibit that runs through May. Sadly, I didn't make it to the ANNE FRANK HOUSE, but hear nothing but rave reviews ( including that epic trip to the museum in this tearjerker ).
As I mentioned, the ALBERT CUYP MARKT makes for a nice afternoon stroll, especially if you venture off the main street into the De Pijp neighborhood, which is littered with cute restaurants and shops. I took a nice bench break in SARPHATIPARK and people watched with the locals. No trip to Amsterdam is complete without a visit to the RED LIGHT DISTRICT, although I didn't last long before I quite literally had seen enough. Do stop at the DE OUDE KERK—Amsterdam's oldest city building and parish church—located in the Red Light District.
Honestly, most of my time was spent strolling along the canals ( the Jordaan area is especially nice )—crossing bridges, switching street sides and just gazing at the one million cute houses.
---
SHOP
Two shops in Amsterdam really caught my eye. I luckily happened upon SEC, located in the Red Light District, which sells minimalistic women's wear by Scandinavian designers. The shop owner was the cutest / nicest human being, so I couldn't help but walk out with this cute colorblocked dress. BY AMFI is another must-shop. The store of the Amsterdam Fashion Institute, the school's students concept, design and produce collections which are sold in the store. Seriously rad.