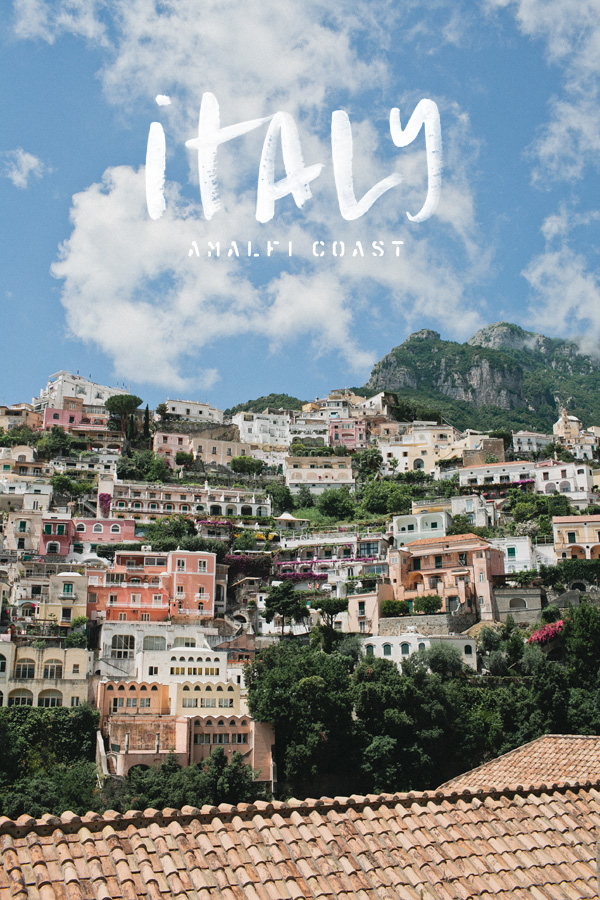 As you can see, our trip to Italy did not suck.
The manfriend + I spent five days lounging in Positano, which is nestled along the Amalfi Coast, and a popular holiday destination in southern Italy. We probably could have stayed here our entire two-week trip, as the whole area is nothing if not dreamy. There is something about the colorful houses tucked + stacked so neatly into the sloping hillside that makes you forget about pesky things like work and stress and the news and eating healthy.
Instead, you do things like sleep in, read books ( finished these two on the trip ), enjoy leisurely breakfasts, enjoy leisure lunches, enjoy leisurely dinners, shower ( only if you want ), eat as much as you want and drink wine at an hour that's totally socially inappropriate.
Or, in my case, you skip the wine + down the local Italian cocktail: the aperol spritz instead.
Most of our days were spent just meandering through the winding streets of Positano or another of Amalfi's small towns—the manfriend with map in hand and me annoyingly stopping every two minutes to take a picture of another colorful building or batch of purple flowers that seemed to spring up everywhere, even in the most unlikely of crevices.
The whole place felt like a dream. A delicious, picturesque, I-never-want-it-to-end dream.
---

LA ZAGARA : Our regular morning breakfast spot, La Zagara is a historic bakery tucked away in the winding streets of Positano. Great coffee, excellent pastries + cheap prices. I highly recommend the bomboloni de Nutella ( Nutella-filled doughnut ).
CAPRICCI : A lovely café near the beach, Capricci was a favorite for cheap and tasty sandwiches, pizza + pastas.  We recommend their Caprese ( manfriend ) and Ravello ( me -> prosciutto, mozzarella, tomato, grilled eggplant, parmesan + truffle oil ) sandwiches.
DELIKATESSEN : The cutest Italian grocery store you ever did see. Delikatessen is a small grocer with fresh fruits, veggies + snacks as well as a hot / cold bar that's perfect for packing a picnic.
COLLINA : A short walk from our hotel, we grabbed excellent takeaway pizza from Collina along with a bottle of bubbly. Their gelato is also TLF ( to live for )—I suggest strawberry + pistachio.
RISTORANTE BRUNO : Dinner with a view does not get any better than this. Bruno makes for a great, not-too-expensive meal—we ordered caprese salad, mussels, spaghetti carbonara + gnocchi, and were extremely happy, albeit extremely full afterwards.
RISTORANTE DA VINCENZO : When you're ready to treat yoself, make the trek out of central Positano to Da Vincenzo. The most delicious house wine, caprese salad, gnocchi, anchovy fennel pasta+ lemon cake awaits you. Need proof? See here.
---

LA TAVOLOZZA RESIDENCE : I cannot say enough lovely things about La Tavolozza. The staff is exceedingly sweet + helpful ( hi Francesca + Paola! ), and the rooms are minimal but boast a view that's completely worth the cheap €95 / night price.
---

POSITANO : Positano is the most posh of the Amalfi Coast towns, and for good reason. It can be seen in a day—be sure that includes a stop at the Chiesa di Santa Maria Assunta church. There are lots of shops + restaurants and two rock beaches perfect for taking it slow.
POMPEII : The ruins of Pompeii make for a great day trip. You'll take the local Circumvesuviana train from Sorrento, then hop off at Pompeii Scavi to explore the excavated area of the ancient city. Budget 3 to 4 hours to wander around. We highly recommend it.
AMALFI : A 50-minute ride on the Sita bus lands you in the busy port of Amalfi—a grittier, more genial city on the coast. It has an AMAZING paper museum—Museo della Carta—with printing machines dating back to the 13th century as well as a church, Duomo di Amalfi. Both are absolutely worth stopping for.
ATRANI : From Amalfi, Atrani is a short 15-minute walk. It's a small city with a quaint downtown and not much else to see. Pull up a chair at one of the cafés in Piazza Umberto, order the spritz lemon ( the local cocktail ) + just enjoy the view.
RAVELLO : A 30-minute bus ride lands you in Ravello, a small village perched atop the mountains. It's absolutely stunning. If you have a bit of extra cash to spend, I recommend eating dinner at one of the overpriced restaurants for the unbelievable view.